I wrote about painting the dining room a while back…here's how that's going: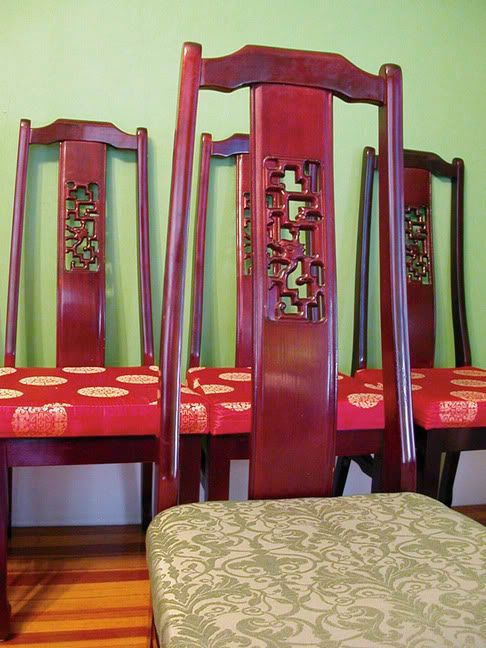 The walls are great, if a little more GREEN than I wanted. I hung everything back on the wall, and it looks pretty good. The ceiling, however…well, I started painting the ceiling late one night. I got one corner done, and realized that Pesto and Fern Green, while looking nice together in paint-chip form, dreadfully clash in real life. Midnight is too late to deal with drama, so I stopped painting and went to bed. The next morning, they still clashed, so I have not done anything further on the ceiling. That one corner is still painted…I'm happy to let it stay that way until I can figure out what to do. Matthew suggested hiring Amy to paint some sort of mural on the ceiling, and that's what we're leaning toward doing.
I did paint the wall of the hallway adjacent to the dining room Pesto, and it's beautiful. I kinda wish I had painted the whole dining room that color.
And the re-upholstered chairs look grand. My mom helped me with them when she came to visit a couple weeks ago. Eleven of the twelve are done.
Any suggestions for the ceiling?

Similar Posts: