Lisa Robinson, a college friend of ours, is visiting us this weekend. Yesterday we took her, my mom, and Katherine on a big tour. (Not that Katherine really saw much of anything…she slept most of the day!) At lunchtime, we girls drove down to North Kingstown and had lunch with Matthew at Seven Moons, an Asian restaurant near his work. Then we drove back to Providence, and I took them on a driving tour of Providence – we saw all the cool artsy/beautiful/historical parts of the city. We went to Roger Williams Park right about sunset. Here's Katherine admiring the view from the Temple to Music.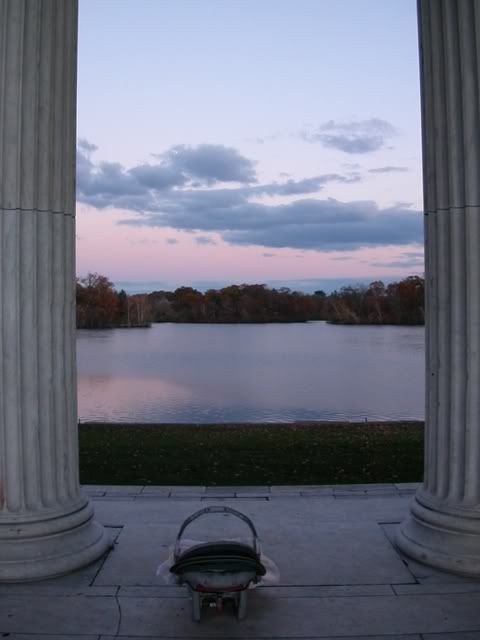 When Matthew got off work, we started our little "Providence Progressive Dinner" with roasted vegetables and salad at the house, then we went to Spike's Junkyard Dogs. All beef hot dogs on freshly baked rolls, with all kinds of tasty toppings…our favorites are the Reuben dog and the buffalo dog.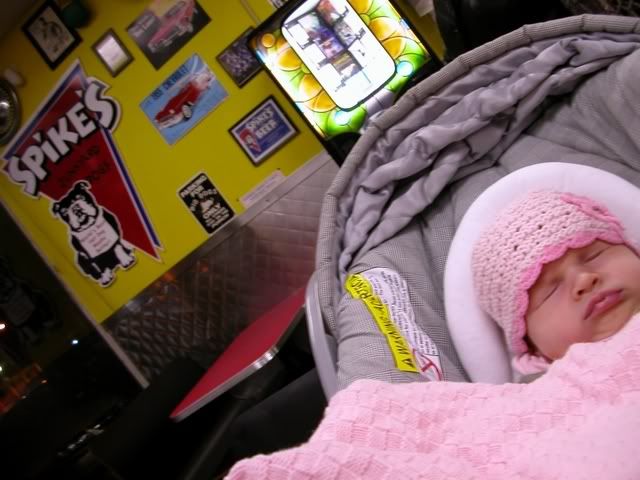 For dessert, we went to Pastiche, a classy little place on Federal Hill, which area was formerly the main stomping grounds for the RI mafia. At Pastiche, the tables are so tiny and there are so many of them jammed closely together that there was nowhere to put the carseat. So…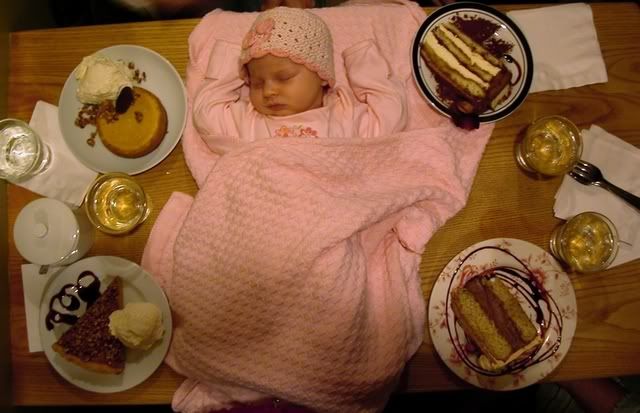 All the old Italian ladies eating dessert with their goombahs oohed and ahhed over the cute baby. Our table was the talk of the restaurant!
Then we stopped by The Coffee Exchange on Wickenden Street, arguably the best coffee shop in town, thence home for the Dice Game, and Katherine finally got HER dinner.
The ADORABLE hat is from Erynne.

Similar Posts: