For the Reader's Digest version of this story, go here.
Saturday night, Dec. 1, I called Hannah to let her know I'd emailed her pictures of my bangs. I had forgotten she was in New York state for a Sunday afternoon wedding and wouldn't have internet access. I'm glad I called, though, because she had a tale of woe, and since she couldn't blog about it, I'm glad I was able to be a listening ear.
Turns out she had been given to understand that her transportation and accomodations would be taken care of, and all she needed to do was show up. When no one came to pick her up from the airport, she got an inkling of things to come. She found out about a dilapidated shuttle from the hotel just in time to avoid walking two miles in the dark and cold from the airport to the Days Inn. After finding out that, yes, she could stay in the hotel…for $100 a night, the true reality of the weekend ahead of her set in. No transportation? Check. No arranged room? Check. Oh, well, at least she had her…debit card? Nope. Still in Oklahoma. And she had Saturday and Sunday night to survive before her plane left early Monday morning, getting her back for her Tuesday morning flight from OKC to Washington, D.C.
By the time I talked to her, she was considering spending the night doing, well, THIS. Or going to the airport and surreptitiously sleeping in the baggage claim all night.
I encouraged her as best I could and then set about making a seven-layer Mexican dip for a Christmas party that night. Somewhere between the beans and the guacamole, the thought came. "HEY! Did Hannah say she was near West Point? I didn't realized she was going to be so close! That's only a few hours from here! Gosh, I should go and spend the night walking around Wal-Mart WITH her!"
Then I remembered not only am I not in college anymore, I also have a baby, who is laid back, but probably not THAT laid back. Still, there must be something I could do to rescue my poor stranded friend…plotting commenced. I called Matthew on the way to the party. "Want to go on an adventure with me?" I asked. I outlined Hannah's situation and finished with several options… A. We pick her up and bring her back to RI with us. B. We find an all-night diner in Newburgh, NY, and take a re-he-he-he-he-heally long time eating. C. We pick her up and then stay with friends in New York City.
"That's insane!" he said. "It sounds like something *I* would come up with. I love it! I'll call Adam." (I was loving having the tables turned. My visionary husband is constantly coming up with out-there plans, and I usually have to bring in the reality check. It was so funny for me to have the crazy idea and him to carefully think out the logistics.)
I was so excited to call Hannah later that night and tell her, "We're coming to rescue you!" She was surprised/happy/elated/shocked/overjoyed…apparently things there had continued to go downhill.
So it came about that Sunday after church I was hurriedly packing an overnight bag and gathering everything for the trip. The true psychoticness of this idea didn't sink in until I went to GoogleMap directions and was confronted with my previously hazy understanding of New York geography…Newburgh is 4 hours from Providence, not 3, as I had thought, and Harlem, NYC, is a further 1.5 hrs., not 45 minutes. And Hannah's flight left at 6 am, not 7. Which meant…quick mental calculations…we would have to leave the City between 3:30 and 4 am on Monday to get Hannah to the Newburgh airport on time. After sufficiently caffeinating ourselves, we set off on our mission/quest/thing. We reached the reception site (which reminded me an awful lot of this inn) as the party was winding down and Hannah was about ready to stove her own head in out of sheer boredom. She ran out to meet us, and when I jumped out of Fritz Alvaredo, she gave me a huge hug and said something about being happier to see me than she had been to see anyone in a long time. I was thoroughly happy to see her too. As she said, it was a lot like this:
We ventured on to the Gahagans' apartment and made great time getting there. They were so gracious to put us up in their tiny space on such short notice.
Me with Elasia, and Evita with Katherine:
Adam making the girls smile: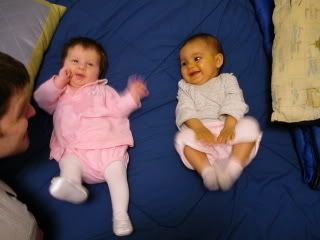 We stayed up way past the babies' bedtimes talking.
I really appreciate the Gahagans willingness to upend their schedule for us! It was encouraging as usual to see them. They are some of the most spiritually refreshing people to spend time with. Their passion and vision is catching.
We finally went to bed, Matthew, Katherine and me on the futon and Hannah on the little chair.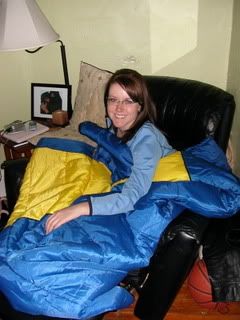 We crashed for a few short hours…stumbling around blindly in the morning, we tried to hurry out the door, but I fell back to sleep instead of getting re-packed while Matthew was showering, so it was almost 4:40 by the time we sped onto the George Washington Bridge and headed northwest. NO ONE was on the road, so Matthew booked it down the highway. Finally at 5:45, Fritz pulled up to the terminal. Hannah dashed out to run through the tiny airport and board her 6 o'clock flight. We told her to call us to let us know she made it on the plane.
The phone rang a few minutes later. As if 6 am weren't early enough…the flight had left early, leaving Hannah tarmac-bound. A couple hours of stress and repeated calls to Northwest ensued. The multiple Northwest agents she spoke with couldn't grasp the idea of saving the airline money by consolidating her two trips – NY to OK, then OK to DC roundtrip – into one trip, so she could ride home with us and go to DC directly from Providence. Ultimately, we had to say goodbye and leave her to catch a much later flight to Oklahoma. And, as Matthew said later, by the time 11 am and he rolled around at Saint John Stone, his boss had so many things to talk to him about that he didn't really notice how late Matthew was to work.
So. It turns out that I saved my friend from spending 9 hours in the Newburgh airport…by leaving her to spend 9 hours in the Newburgh airport.
Morals of this very long and drawn out story:
1. Our adventuring days are by no means over now that we are parents. Katherine was a gem the whole trip.
2. I love my friends and will do pretty much anything for them. But don't ever count on me to get anyone anywhere on time early in the morning.

Similar Posts: