Step 1: Drink a bottle of rum.
Step 2: Watch all three Pirates of the Caribbean movies.
Step 3: Duly inspired, sit down to plan your pirate-flavored invitations, menu, decorations, and games.
Step 4: Drink another bottle of rum.
Step 5: Stumble back to your desk to finish planning.
Step 6: Decide you're too inebriated to plan anything. Peer into the now-empty liquor cabinet.
Step 7: Light a fire in your living room; dance around it asking, "Why is all the rum gone?"
OR, alternately, if you actually want to get a pirate party planned:
Step 1: Occasions. Talk Like A Pirate Day is Sept. 19…now is the opportune moment to plan a party. If you really like to plan ahead, the next Pirates of the Caribbean movie comes out May 20, 2011. And Pirates make a great theme for birthday parties, movie marathons, New Year's Eve parties, bar mitzvahs…okay, maybe not bar mitzvahs. Choose an occasion – or no occasion – for your pirate party.
Step 2: Venue. Pick a piratey venue. If weather permits, outdoor parties work really well with a pirate theme, especially if you can hold the party near a body of water. Beyond ambiance, an outdoor party has the added benefit of allowing you to actually bury a treasure chest. If you do have an outdoor party, ensure there are adequate restroom facilities. I once did a pirate party in a park without porta potties; having to shuttle guests to the bathroom a couple miles away at my house really slogged up the procession of the party plan. But it was worth it – here's the party location, the Temple to Music at Roger Williams Park in Providence, RI.
Step 3: Invitations. Make invitations as soon as you've picked the date and time. If you're mailing invites, send them out at least two weeks ahead of time. Whether you mail, email, phone, or Facebook your invitations, use your best piratey language. Lots of "arrrs," "ayes,"  and "avasts." Here are the invitations I made for my pirate birthday party 3 years ago. Hint: don't make the language so piratey that people can't understand it…with these invites, several people had to call me and ask for translations.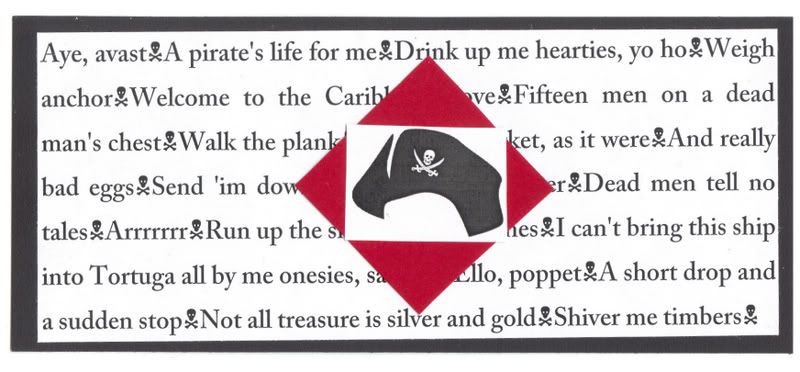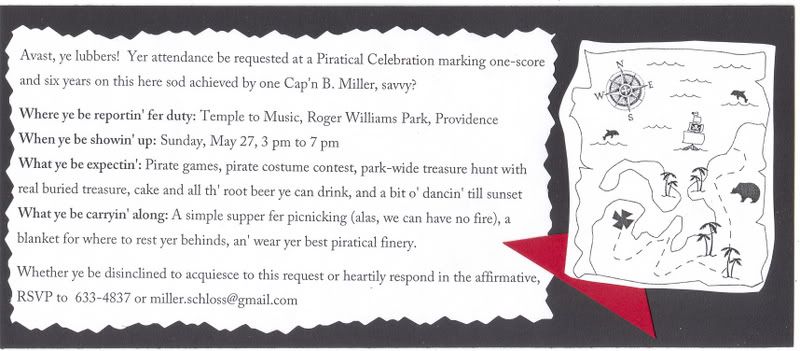 Step 4: Costumes. What good is a pirate party without costumes? Seriously. It's one of the best costume party ideas. Plus, your guests will be apt to have more fun and take themselves less seriously if they're sporting eye patches, hook-hands, and parrots. Everyone walks with more of a swagger when they're wearing sashes and tricorns. Here's a fantastic list of ideas and links for putting together pirate costumes.
Step 5: Menu. Unless you want to serve hardtack, citrus fruits, and maggoty meat, I suggest going with an inauthentic menu. Eat whatever you like and focus your creative endeavors on the drink menu. If you're going non-alcoholic, root beer in bottles is a must. If your pirates are NOT tee-totalers, the Talk Like a Pirate mates have an excellent list of pirate drink recipes. You can fall back on the standard grog, but, frankly, it tastes terrible. The cake is the place to shine with creativity. Here's the treasure chest cake my mom made for my birthday a few years ago.
And the stellar cake my friend Jenn made for a Pirates movie marathon.
Step 6: Decorations. If you're not lucky enough to have your party onboard a ship, like this amazing couple with their pirate wedding, decorate as best you can with a nautical flair. (Did you click on that link? Go back and do it now. Go on, I'll wait.) Think treasure chests, strings of pearls, dubloons, sashes, tricorns, maps, model ships… In the cake pictures above, you can see some of the decorations I've used at various pirate parties.
You can ask each guest, or team of guests, to design and make their own pirate flag. Provide supplies – black fabric for flags, white and red felt for cutting out their own pirate symbol, and glue guns to attach them all together. This activity then adds to the decor.
Step 7: Games.
I Don't Have Scurvy - guests compete to eat cut-in-half citrus fruits, racing a clock and each other. The fruits get more sour as the fastest contestants progress through the rounds. No matter who wins, it's guaranteed that all contestants will be scurvy free.
Plankman – a living game of hangman. When players call a letter that's not on the board, there's not drawing of fictional body parts on a hangman's noose – each team's plankman must take a step further down the plank. (If you can do this over an actual body of water, this is much more better.)
Captain Says – like Simon Says, but the Captain calls the shots and does pirate-themed actions (i.e. hop on one foot like a peg leg pirate).
Blind Man's Bluff - use two eye patches for a blindfold.
Pirate Scrabble – Speed Scrabble with a twist. Contestants may use only pirate-related words (stretch this as far as you want, but you have to give a justification for each one). The fastest finisher must tell a pirate story using all the words on his or her board to claim the win.
Pin the Kiss on Jack Sparrow/Will Turner – This one is for the ladies. Hang a poster of Cap'n Jack or another dashing pirate. Give each guest a cutout of paper red lips labeled with her name. Put tape or sticky tack on both sides of the lips. Blindfold the player, spin 'er around, and send her wobbling toward to picture to plant a kiss on Jacky's lips. Closest one wins.
This post was inspired by my friend Joleigh, who threw a pirate 16th birthday party for a friend last weekend. Jo, you'll have to send pictures and let us know how it went! Drink up, me hearties, yo ho!

Similar Posts: