Today's illustrated story is about another valuable lesson in hospitality.
See the pretty table.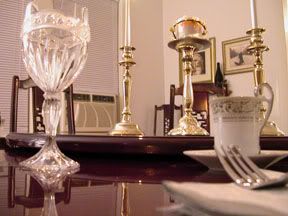 See the delicious food.
See the empty chairs.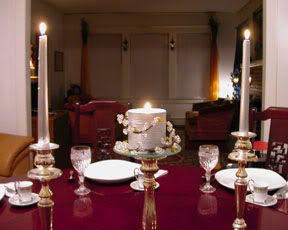 This house is all dressed up with no one to entertain!
///
So, here's what happened. We've been trying to have one of Matthew's old friends over for dinner for, like, two months. Last night was the third date we had set with her (she had cancelled twice before). I last talked to her before Christmas, and she said that Tuesday, Jan. 3, would be a great night for her. So I put it on my calendar.
I had Monday off work, so I put extra time into setting the table really nicely and getting a lot of the food prepped so we could have a nice, relaxing evening with her. I was very excited about the menu: Thai chicken wraps (chicken marinated in peanut butter, lime juice, ginger, soy sauce, brown sugar, and hot sauce, with garnishes of fresh cilantro, mint, scallions, and lime wedges), sauteed yellow squash and zucchini, and green tea, and for dessert, triple hot chocolate with whipped cream and an assortment of fine cookies.
Yesterday, I called her several times throughout the day to confirm the time – 6 pm – and to give her directions. I kept getting her voicemail. She didn't call, didn't call…6 o'clock came and went, and no guest.
So Matthew and I decided to invite someone else. The table was set, the food was ready, the house was clean…but no guest! (Didn't Jesus say something about that?)
I called Karla & Phil. They weren't home. So I called Eric Stephen & Jennifer. No answer. I called Beth and got her voicemail. Then I called Mandie, then Ariel. Neither could come, but we started making plans to get together on other days. I called Gabe & Julie, and they themselves had guests over, so we planned to have dinner with them next week. No answer at Peter & Julie's. Matthew invited Ben and Dan, but they were having dinner with their grandparents. Then he called Paul and couldn't reach him. Both Jen and Beth called back later, and we made tentative future plans with them. So that's…four married couples and six single people – and no one could come!
At 7:30, Matthew and I sat down to a lovely, candlelit dinner, just the two of us. I suppose my mistake was not calling our potential guest on Saturday or Sunday to confirm the date. Lesson learned for next time…
As Matthew said, "At least this jumpstarted our hospitality!" We now have dinner dates with a whole slew of guests for the next two weeks. Hooray! So I guess it didn't turn out too badly after all.

Similar Posts: