So, I just finished officially cleaning up from the party.
Saturday night's party. (It's Wednesday.)
I just swept up the crumbs and hand-washed the last two pieces of china. (There were kind of a lot of dishes.)
Every bit of the party had been clearly planned, delegated, and executed upon…except for the clean-up. I wasn't billed as a hostess for this party…it was Matthew, Joanna, and Phil giving a party at my table, so I assumed they had an clean-up plan as well. Joanna and Phil kept up with things in the kitchen during the party, and Matthew did several loads of dishes on Sunday and Monday. Even the babysitter who came over Monday night sent a load through the dishwasher! (Yeah, she's a keeper.) But there was just SO MUCH CLEAN-UP.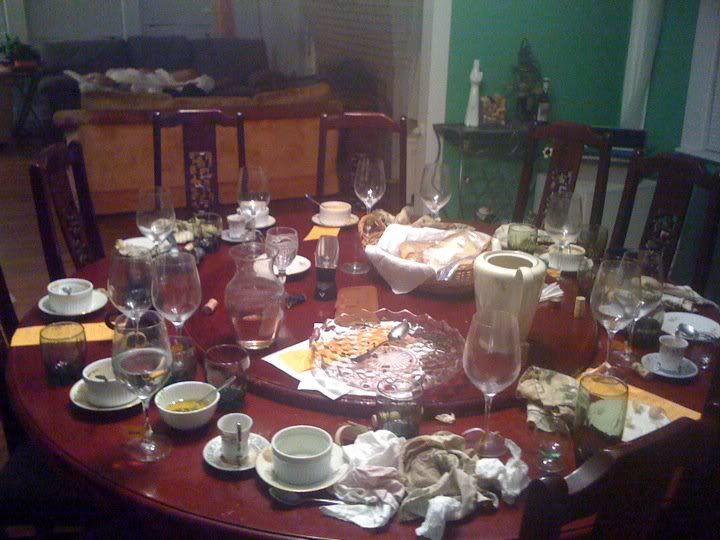 (The aftermath Saturday night)
Matthew noticed yesterday that there was a funny smell in the kitchen, so he took out the trash and thought that got rid of it.
Today, I decided to just jump in and finish it myself…and I found…well, here's part of the email I sent Matthew earlier today:
Behind all the dishes, someone left half a watermelon out. It rotted and leaked mushy liquid all over the counter, under all the dishes, and last night, over the front of the cabinets and onto the floor. It turned brown and sticky as it dried. THAT was the horrible smell in the kitchen. The cats tracked it onto the window sills.
It mightn't have been as bad if we lived somewhere hotter, somewhere with central air in every building, somewhere that the AC just runs from May through September. As a given. Here, we have window units and try to do without as much as possible, partly to control the electric bills and partly so we don't risk blowing the circuits in this old house. So it's September 1st, and 95 degrees, and we had the windows open. And it was hot.
And the watermelon didn't like that.
So, that's what I spent my afternoon doing. How was yours?
Lesson learned: next time we have an event, we're going to clearly delineate whose job it is to finish all the cleaning. And throw out the watermelon.